ALBERT ASHOK
email : albertashok@yahoo.com
phone :+(91 33) 2529 9371
mobile :+(91 33) 93308 58536
165 R N Guha Road, Kolkata 700028
W.B. INDIA
2) RAW FOUNDATION a non - profit artists and writers org.
3) My paintings, books, illustrations ...
4) Other works
5) Grievances
International P.E.N. Kolkata chapter

This is my gallery of Drawings
and Paintings !
It is my space , my life and my past!
My name is Albert Ashok. I am an Indian, Bengali is my mother tongue, I live in Kolkata, West Bengal. I call myself— 'I am an artist', yes! People also call me by the word 'artist'! I feel proud and honoured!
From my early boyhood I cherished a dream to become a professional artist. Since then I fell prey for misfortune, my struggle for existence started against all sorts of odds and adverse current/ force. My parent did not like my inclination toward arts, because we were poor , illiterate and ignorant people, and then we used to live in Tripura , a backward state in Northeastern India, among illiterate class and tribal people, a hilly region and full of forest. I am talking about the year 1965 and onward.
So, far I can remember, my father had no enough income or money to feed us. Anyway I got in touch with Art and literature and started to spin a dream of becoming a famous arttist. Dream brings a great happiness in human mind! And Everyone loves dreaming. I wanted to shed labour and earn money to fill my stomach and buy things I like .I did not want to be a burden of my father. I ran away from my hometown in Tripura in search of food and shelter, I had no specific plan to arrive in Kolkata, but felt reaching in Kolkata could be good to me and settle.
In 1978, I left my parent, house, friends with tearfull eyes, without telling anybody. I am a simple, poor farmer's son! No education! No provisions! Nothing! I reached In kolkata somehow! A quite unknown place! I had suffered so much inexplicable afflictions, hardship. I started my career as a domestic help boy, doing house errands and menial jobs. But I remained attached with my dream. As, only dream could have brought me happiness in dire stress and distress.
Today, I have come a long way to look back! From 1980 to 2007 is 27 years; It is a retrospection of my life! A time to check in how much life had offered me and how much I could have collected, and how much I offered this society and how much I received in exchange from its bowl.
The food, water, shelter and social security these were the elements which drove me from my cozy home, made me separated from my beloved parents, and brought me here, still, I am looking for them! When I am in distress, go on starvation feel insecure and helpless I remember my country men, the most of it are hapless have no security to feed themselves two square meal a day, far from literacy and clothing. It is India! I know south Asian countries and African countries are no better state than ours. But where is the problem? Do we have less resource than western countries? I don't think so!
Life biodata credentiality
http://albertashoksart.blogspot.com/
With my teacher Bijon choudhury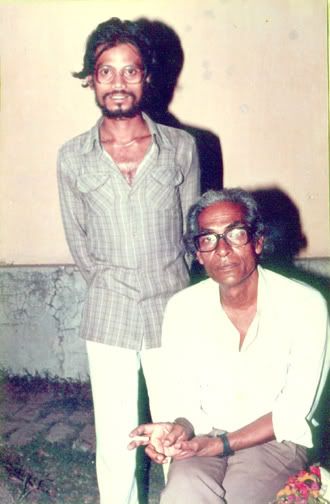 My life size paintings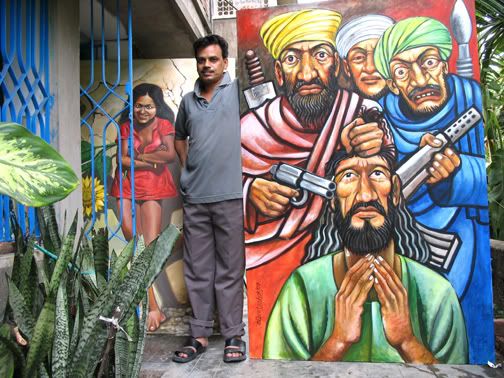 me, my dream writer Sunil Gangopadhaya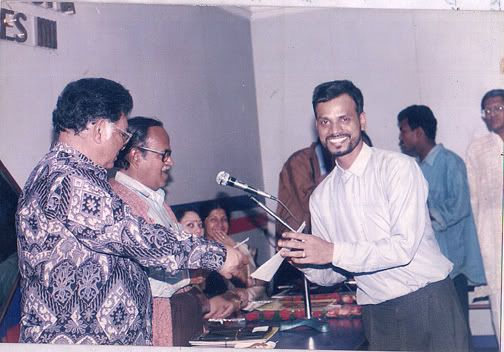 with writers in police launch courtsy: K. L. Maity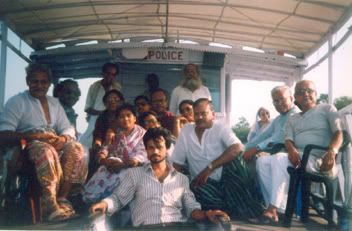 I had drawn a portrait and gave it to Dibyendu Palit, on a felicitation of his Academy Award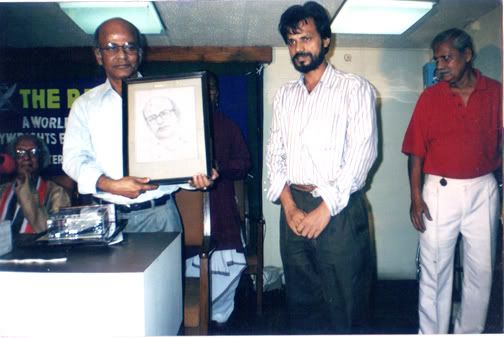 A portrait Of Deb Kr Basu, Poet Nirendranath chakrborty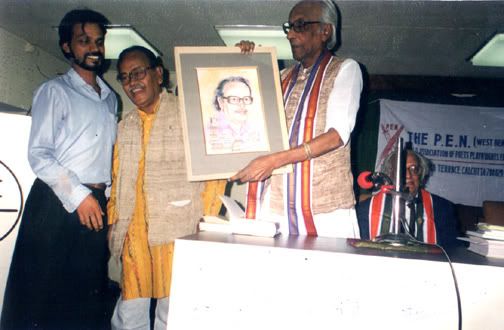 In calcutta press club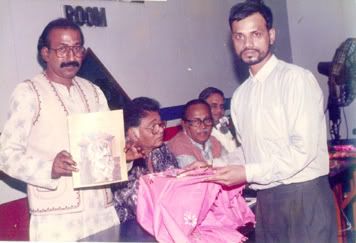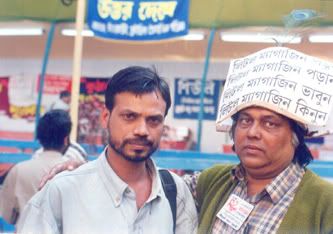 at Academy of fine arts, my first exhibition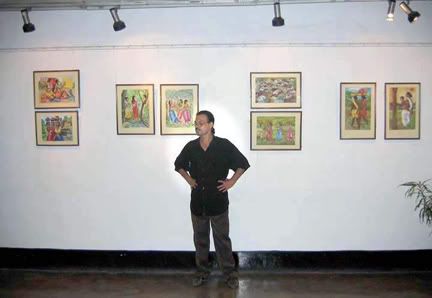 me, Tarun chakraborty,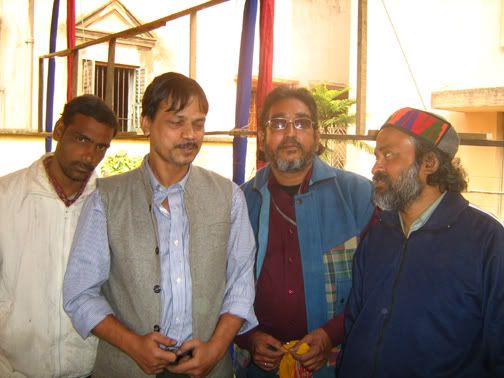 poet confluence, I am reading a poem..
Calcutta book Fair Poetry reading session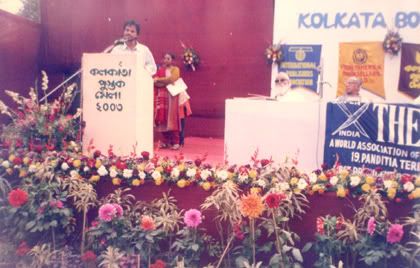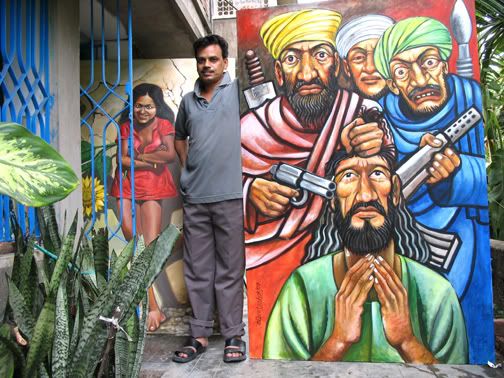 Walking for books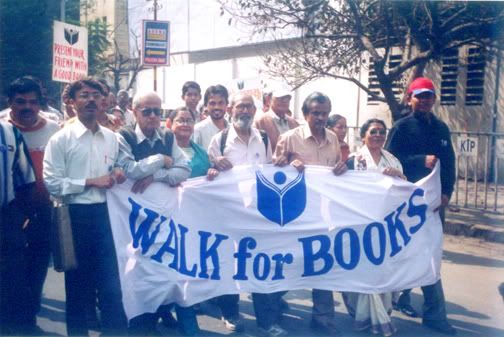 in front of Bangla Academy , me and others fellow writers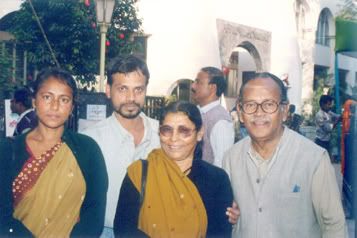 Sahityasetu, Kabi mela, Bansberia, Hooghly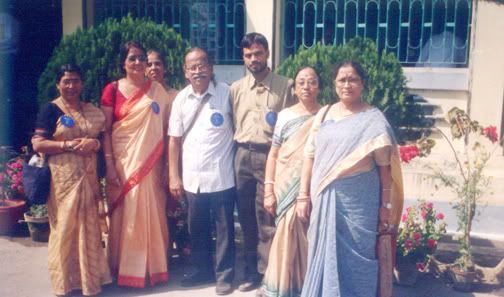 For last twenty-five years, I came in contact with many intellectual personalities, I learnt many things, I tried to change my life and style, I came to know and explore Art and literature. From 1982, I started my career as an artist in a film (publicity) office, Damani Pictures, Lenin Sarani , Dharmatola. Under a publicity officer, Pintoo Dutta. My first work was 'Saheb' a Bengali Film; I had done some poster design and newspaper advertising layout. I worked for many films as an artist and designer.
I worked some advertising companies afterwards and before landing with freelance jobs in leading publishing houses in College Street, Kolkata.
My books are available at
Adhunik Pustak Prakashan

I raised and secured myself from a pavement dweller to a respected citizen! Yes, People know me because of my work, in land and abroad. People write me letters. show me respect!
My credential and contribution I left for my country is as follows;
Though I did not get a formal education, as I did not have such any opportunities at all,
I have written about a hundred books on drawing and paintings, the books were published by different publishers. The most books were enlisted in schoolbook lists.
Every year about a lakh (100,000) students use my books. A few dozen books are used by college students and advance students of art.
I have written eight books of poem, one is in English –RAVISHING YOUTH 300, and this was my first book in literature. A few poems were published in English periodicals, published from Delhi.
I wrote many articles in little magazine on contemporary Arts and Literature.
I have illustrated about 500 books, mostly were children fiction, stories, and schoolbooks, written by different authors and published by different publishing houses in Kolkata.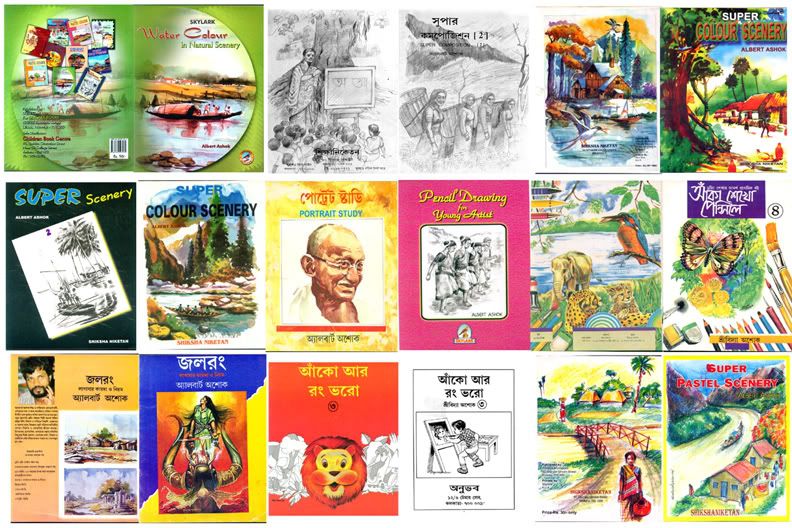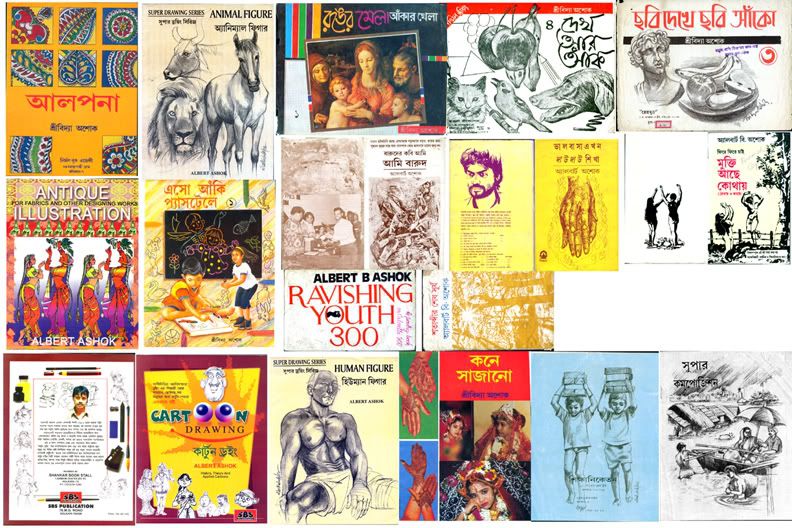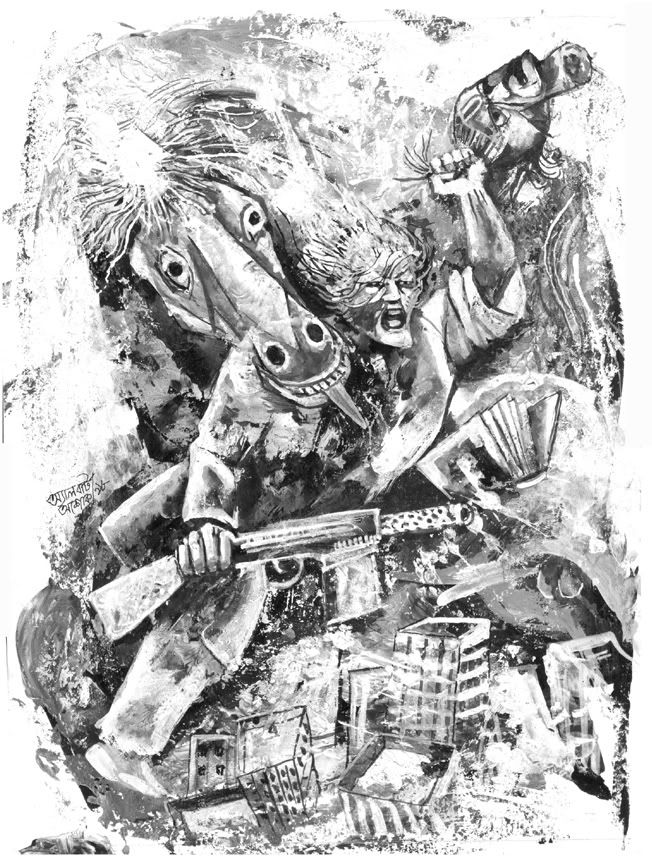 I had written some comic strips also.
From 1999 to till date I have been participating in Art camps, workshops and annual exhibition of fine arts in different institutions in different locations and galleries.
Because of money and resources, I could not hold a solo Painting exhibition, But I exhibited my works in group shows regularly for last 3 years in Kolkata and Hyderabad .
Many people in land and abroad have collected my drawing and paintings, I feel honoured.
I taught as a professor in some diploma colleges and was a popular instructor of human figure drawings, art theory and contemporary paintings.
I could have done more, but this is my misfortune that I am a very poor man, and could not make money, my books that were published could not give me enough money, my royalty was denied. And no Government had me beside, or supported, no media had looked in my life and struggle. It is not my commotion against anybody; I don't want to be luckier than an average common man of my country. Or don't want to be rewarded that I don't deserve. I am aware of my time and place! I wish If I could have fled in Europe or America, I might have the chances to exploit my talent in better way and at least my human resource would not drained out of myself , it would help the nation grow better!
I applied for a passport but I was denied, I wrote to all officials concerned, even wrote to C.M., Judges, Human right commission and daily periodicals, Only 'The Telegraph' had published my grievance. But all fell to deaf ears!.
Some day, as I was born, I will die, I leave no commotion, no regrets! What life has offered me, I had received some, some I could not, I admit my failure and inability. I want to leave this story for sake of common people who struggles hard to hit things, but fails because of indifference of society, and government! In this land, people die without food, commit suicide being helpless and in despair! I am lucky in this sense to be alive!
But my message is-' be composed, If you can't overcome the oppositions accept what life has to give, surrender and wait for better time!'
Thank you!
I think this is a story of triumph over life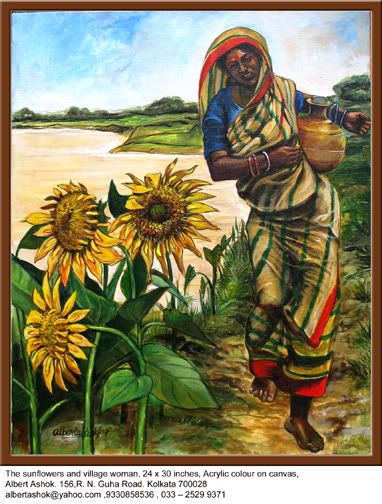 #######################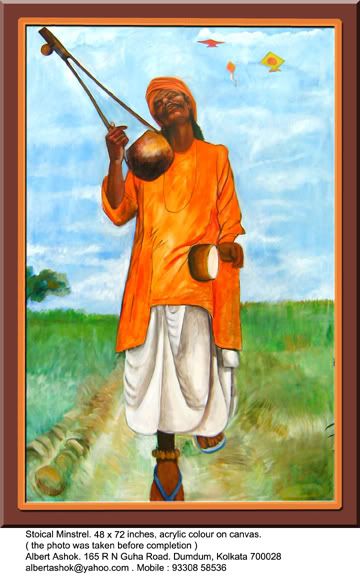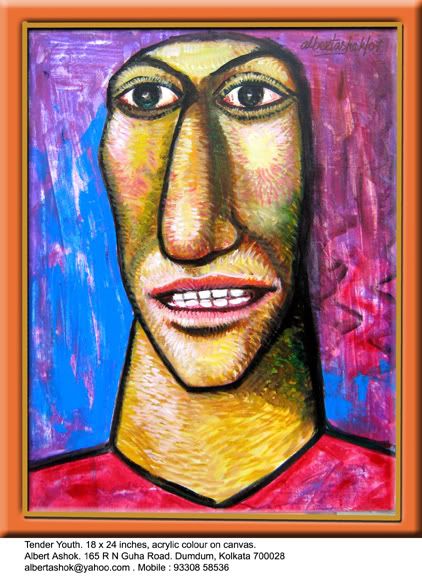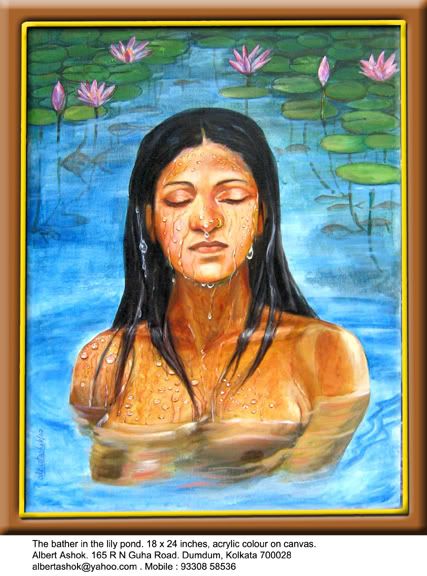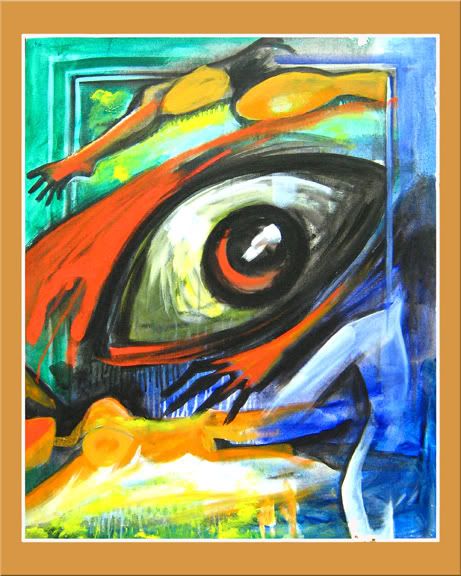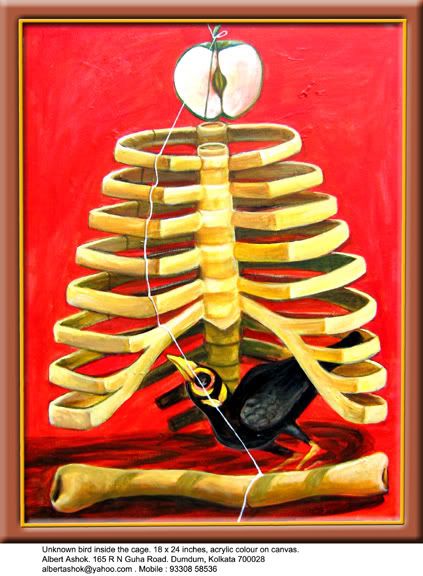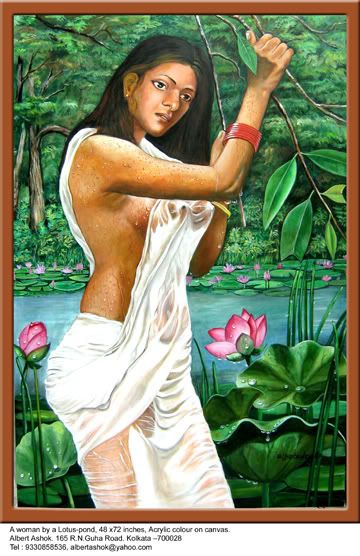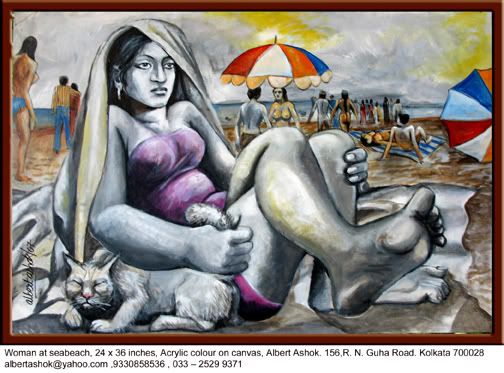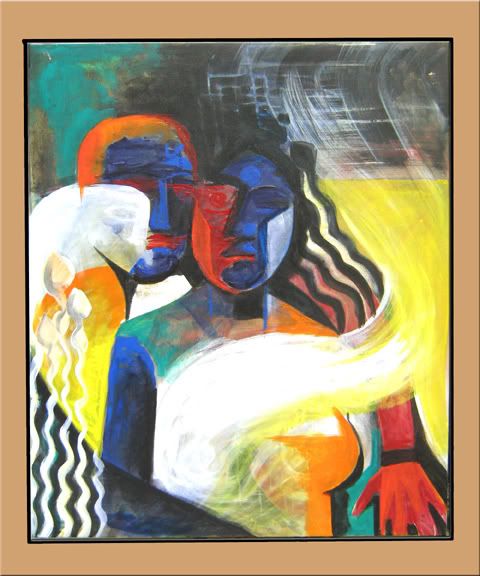 Saluting sun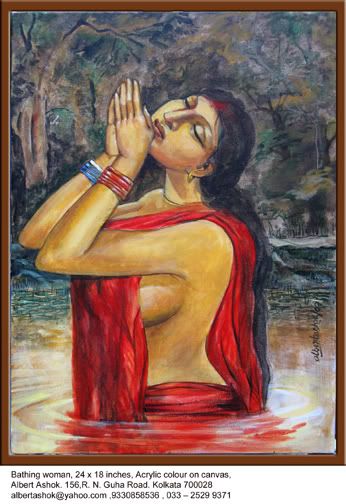 Bondo woman
Sunny Spring Time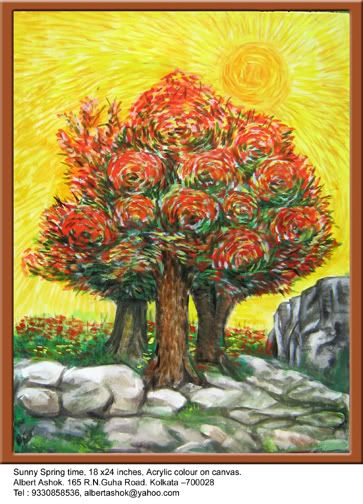 To prevent SCAMS read following websites:

http://scamalert.spaces.live.com/
http://www.scamwarners.com/
http://www.419eater.com/
http://www.419.bittenus.com/
http://www.aa419.org/
http://albertashoksart.blogspot.com/